In my group they call wine "Liquid Cake" because – like cake – it's really high in calories and a small portion is never enough!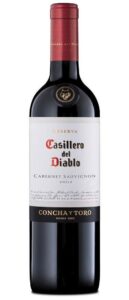 A standard 750ml bottle of a typical brand of red wine that you'd find in a supermarket in Ireland is Casillero Del Diablo. It's 13.5% alcohol.
If you drink the whole bottle you're looking at around 35 syns!
There are other wines with a lower percentage of alcohol in them – and as such, lower syns – but who spends their time in the supermarket looking up alcohol content?